We're raising £5,000 to help Save the Rhino Trust Namibia. Please Donate!
Mike Hearn
Mike's first encounter with a black Rhino was at the age of ten when his father, Tim, took him on a behind-the-scenes visit to Port Lympne Wild Animal Park. Here, he met a mother Rhino with her new calf, still yet to venture outside. "Be careful," Mike was told, "black Rhino mothers are very protective of their young." It wasn't long before Mike was scratching the mother Rhino's nose and feeding her bananas. It left a lasting impression on Mike, whose destiny, unbeknownst to him at this time, lay far away in Africa, caring for the Rhinos of Damaraland, Namibia.
Mike finished his schooling and joined Save the Rhino International, working for six months in the London office, determined one day to make it to Africa. Eventually, a position became available at Save the Rhino Trust Namibia (SRT), in the capital Windhoek, and Mike took it with open arms. Mike's interest in photography was able to help SRT set up a database of pictures and it took him out into the field, carefully tracking and recording the black Rhinos, photographing them undisturbed and getting to know each individual animal. This is where his heart truly belonged, even with the long days, blistering heat and rough terrain.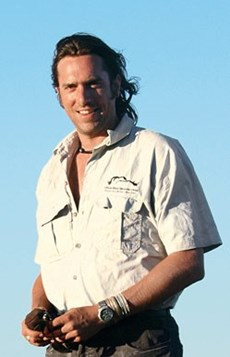 In 1995, Mike set up a base camp in Khowarib Village in the Kunene region of Namibia, where he found himself in charge of organising foot, vehicle and Camel patrols to monitor the central Rhino groups. His photography led him, unsurprisingly, to film-making and he was involved with several documentaries, including for the BBC.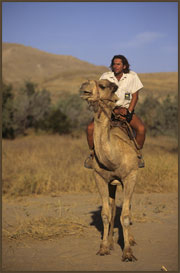 His affable nature, sensitivity and charisma enabled him to work with a huge diversity of people, including head tribespeople in local communities, business people, tourists, donors and of course, conservationists. In his twelve years with SRT, he completed an MSC at the Durrell Institute of Conservation and Ecology, University of Kent and became the director of research at SRT, earning his place in the African Rhino Specialist Group.
Mike was part way through a PhD when a tragic surfing accident took his life in 2005.
Loved and respected by all, Mike left a powerful legacy with all those that knew him, and it is they who continue his work, loving and protecting these wonderful Rhinos.
Berry White, Rhino Keeper, Port Lympne Wild Animal Park
---
Blythe Loutit
Blythe Loutit was a dedicated conservationist, a children's author, a landscape painter and a botanical illustrator. With her tremendous strength and spirit, Blythe was the founder and the driving force behind Save the Rhino Trust Namibia (SRT) and a very extraordinary woman.
Blythe began exploring the Namibian desert in the nineteen-eighties in order to draw the unusually diverse flora in the region and it was during her trips that she made the dreadful discovery of countless, butchered Rhinos, peppered with bullet holes and with their horns mercilessly hacked from their bodies. In response to these upsetting discoveries, Blythe became determined to do something to protect and save the desert Rhino of Damaraland that were in such obvious danger.
SRT's humble beginnings in the eighties began with a small, dedicated group of Namibian locals who, working with Blythe, were determined to see the situation change for the Rhinos. They worked together from isolated field camps, building and developing an organisation that gained worldwide recognition and acclaim for its conservation efforts.
SRT won many awards along the way, including the Sir Peter Scott Merit award, an IUCN Species Survival Commission award in 1988 and an Operation Survival award in 1991. Blythe sold paintings at Christies and through the David Shepherd Wildlife Foundation, to raise funds. She received the BBC Animal Award for Conservation of the Species in 2001.
Sadly, Blythe lost her battle with cancer in 2005, leaving behind a world-leading organisation. She would undoubtedly have been most proud of the fact that during her life she had seen seven generations of Damaraland Rhinos loved, respected, monitored and protected, an extraordinary accomplishment that is continued today by present CEO, Simson Uri-Khob and his outstanding team at Save the Rhino Trust Namibia.
Berry White, Rhino Keeper, Port Lympne Wild Animal Park