We're raising £5,000 to help Save the Rhino Trust Namibia. Please Donate!
My first trip to Damaraland, Namibia
My first adventure to Damaraland is something I shall never forget. It was 1994 and, before heading to Namibia, I travelled first from Port Lympne Wild Animal Park (where I still work today) to Addo Elephant Park in the Eastern Cape South Africa with the legendary black Rhino vet Dr Pete Morkel, along with our Port Lympne three-year-old black Rhino bull, Bwana Kidogo. Bwana was the first captive-born, black Rhino to be returned to Africa, so it was an historical trip. Bwana Kidogo arrived, safely settled in, and was a great success story - going on to sire many calves in Addo National Park.
Just before we left Kent for Africa, I had received a letter from my dear friend Mike Hearn who, growing up next to Port Lympne, had fallen in love with the Rhinos there and regularly came to feed them with me. Mike, having spent a year traveling round Africa, was now working with SRT in Namibia, on behalf of Save the Rhino International (based in London). The letter read: "Bez, if you're coming to Africa, you must come visit me in Namibia."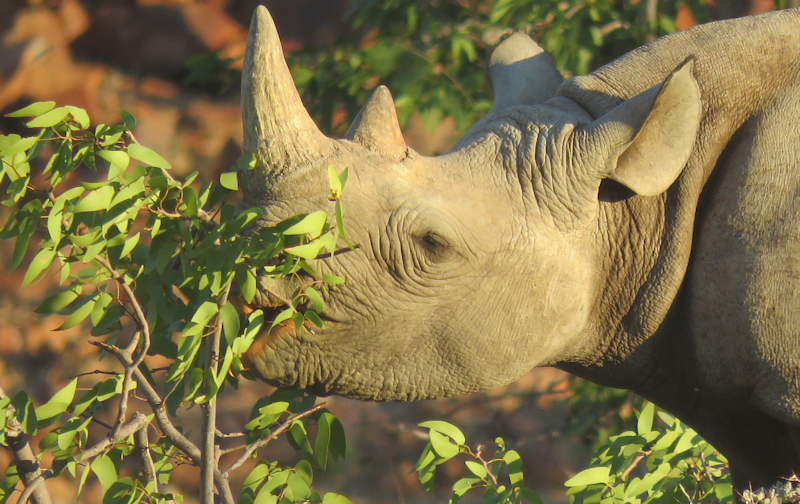 I had no idea of distances but Pete Morkel, having spent much of his life in Namibia working with the Rhinos, knew what a gem lay ahead. I'm so grateful to Pete who, once we had settled Bwana, helped me on a bus to Windhoek via Cape Town. I remember seeing whales blowing their spray close to the shore by the bus stop, a nod to an epic journey ahead. After a stop for a few hours in Cape Town, I arrived early next morning in Windhoek and was met by Pete's dear friend Sharon Montgomery. Sharon managed to secure me a flight in a light aircraft the following morning, with the BBC, as they were doing a four-day recce for their upcoming documentary 'Dawn to Dusk.'
---
You can watch some clips from 'Dawn to Dusk' on the BBC iPlayer here
A two-minute clip of a Rhino search in Damaraland
---
Luck was on my side, as it so often has been on my travels. These are big distances and how I ever thought I'd end up getting to Mike in Palmwag and back to Windhoek in a week, I don't know! The flight was mesmerising, I watched long silvery grasses blowing frantically in the wind and Oryx bounding in all directions with their spectacular horns. Those other-worldly red mountains, cliffs and boulders and the huge euphorbia plants with their long green shoots, was a world like no other. There was Mike to greet us at the airstrip at Palmwag, not one bit surprised that I'd slunk a free ride with the BBC!
The next four days were spent exploring the Damaraland area. It was just so mind-blowing for me, to see this land so wild and remote and precious, with those extreme mountain formations like you were on another planet. I remember meeting Blythe Loutit, one of SRT's founders and one of the all-time great women of Rhino conservation. Her passion and protectiveness over the Rhinos that she had dedicated her life to, was second to none. On that trip, just taking in the landscape alone was one thing, but to see a herd of desert Elephants and Giraffes and, ultimately, the incredible sight of the Damaraland Rhinos in that environment, strewn with bright red rocks, the boulders and the most extraordinary plants, to realise that a place like this existed on earth, it really changed my life
To this day it is still my favourite place. I feel so grateful to have been shown it by Mike, to have met Blythe and, thanks to Save The Rhino International and Vanessa Buxton, to have done three, week long fundraising bike rides. I also took part in a camel trek, from Palmwag to the Skeleton Coast, raising money for SRI.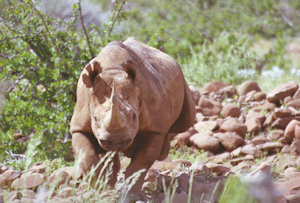 What would this precious land be without the Rhinos that have walked those paths for millions of years - the same Rhinos that have been pushed to the point of extinction because of human greed and the poaching of their horns? Without the commitment of SRT and the work it does alongside the local community, the Rhinos would almost certainly be gone and without them, the heartbeat of Damaraland would be no more.
Berry White - Rhino Keeper, Port Lympne Wild Animal Park, UK