We're raising £5,000 to help Save the Rhino Trust Namibia. Please Donate!
Wonderful Rhinos
I'd like to give you some background to my life with Rhinos so far, and the inspiration behind this weekend's fundraiser.
My name is Berry White and I have been very lucky to work with Rhinos for over thirty years. This is my twenty-sixth year working as a Rhino Keeper at Port Lympne Reserve, one of two wild animal parks in Kent founded by the late John Aspinall and now run by his son, Damian Aspinall and the Aspinall Foundation. Port Lympne is home to many endangered species and is nearly six hundred acres of woodland and roaming paddocks that form a sort of amphitheatre looking across Romney Marsh and the English Channel. It has an historic mansion in its grounds and exceptional views. It's one of the most beautiful places on the South Coast.
I first went to Port Lympne on a family trip when I was thirteen and from that moment I was obsessed with a plan that I must work there. I hounded them with letters asking if I could be a volunteer and in December, 1984 they finally caved in and offered me voluntary work with the Rhinos. I had no idea about them or what to expect really, but I was excited.
After three months of volunteering, I was given a full-time position and I stayed, living and working at Port Lympne for the next eighteen years. Once I started working with Rhinos I couldn't help but fall in love with them. They were so much more than I had bargained for – wild, spirited and feisty, incredibly agile, fast, powerful and hot tempered; and yet surprisingly sweet and affectionate, doting sometimes and quite demanding of love. They were also mischievous and playful. This was all so intriguing and unexpected.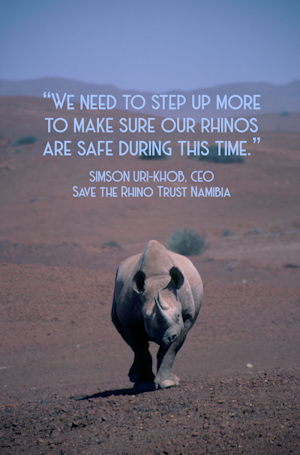 The first time I worked at Port Lympne, I stayed so much longer than I had planned to, but the Rhinos were hard to walk away from and eventually, I would return to work there again. I left Port Lympne in 2003 to fulfil another life ambition that took me four years. I travelled and visited Rhino Projects, including Indian Rhino in Chitwan National Park, Royal Bardia and Dudhwa National Park in India. Now, there are just over three thousand, five hundred Indian Rhino left on the planet. I also visited Sumatran Rhinos and our dear Rhino, Torgamba, at Way Kambas National Park, Southern Sumatra. Torgamba had previously lived at Port Lympne alongside a female called Meranti, but unfortunately the two never bred and after Meranti sadly died, Torgamba was returned back to be the founding bull at a new sanctuary in Sumatra, Way Kambas, in 1998.
When Torgamba came to Port Lympne in 1985 there were estimated to be four to six hundred Sumatran Rhinos in the wild but today there are only approximately seventy left, with none now in captivity. They are the real sweeties of the five Rhino species, they are small and hairy and they communicate with enchanting song-like mews. They are critically endangered, partly due to the destruction of their forest habitat for the palm oil trade but also due to the poaching of their horns. The Sumatran Rhinos are our closest living ancestors to the Woolly Mammoth and they are not very well-known and in great danger of disappearing. I feel incredibly lucky to have worked with Torgamba and Meranti in the eighties and nineties but the dramatic decline of the Sumatran Rhino population in my lifetime has been shocking.
Heading south into Java, I visited the wonderful peninsular, home to Ujung Kulon National Park and the last Javan Rhinos on earth. These also number less than seventy, and like the Sumatran Rhinos, there are none in captivity, although they are less vulnerable than the Sumatrans because they live in one area and can be more easily protected. I've been to Ujung Kulon three times now and it's always magical but, I am still yet to see the elusive Javan Rhino in the wild.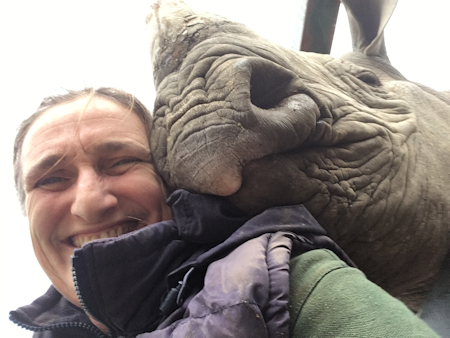 My final year of travel was in Africa and here I met up with my dear friend and wildlife veterinarian, Dr Pete Morkel, with whom I've now worked on various translocations between Port Lympne and South Africa. Pete involved me with helping boma care (a boma is a wooden enclosure for the holding of the rhinos) and the translocation of Rhinos going from South Africa to Zambia. For the next six years I joined Pete on several more translocations, including moving European captive collections to Africa and the last four Northern White Rhinos to Ol Pejeta in Kenya.
In 2012 I helped with the move of three black Rhinos from Port Lympne to Mkomazi in Tanzania, and after this an opportunity arose to work again at Port Lympne and settle in the UK, and that is where I've been for the last seven and a half years. To date, Port Lympne has bred over forty Black Rhinos and returned eight back to the wild in Africa.
Through my travels I've seen Rhinos in all types of habitat, from African bush and forests to rivers and deserts. Of all of these amazing places, Damaraland in Namibia will always have a very special place in my heart. I've been so lucky to visit on many occasions, especially when Mike was alive and to have met Blythe and see first-hand her passion for protecting the desert Rhinos she loved so much.
And big thanks to Save the Rhino International, with whom I've run five hundred and thirty miles in various marathons around the world, dressed in a Rhino costume!
I'm so grateful for the experience working with Rhinos in Africa and the incredible individuals I've met along the way, people who have given their lives to care for these beautiful animals.
I want to dedicate this Solstice weekend event to Mike Hearn, with love and respect for all he did for Rhinos and for introducing me to that magical place in Damaraland. I really hope we can raise as much money as possible for Simson and the Save the Rhino Trust team, to help them protect the Rhinos and keep them in their Damaraland home where they belong. Let's all have a great Solstice weekend and please donate whatever you can …thank you so much …

Have fun! Go wild!
Lots of love Berry White xxx